To get started building a beverage menu, click the "Add a New Menu" button at either the top or bottom your Menu Management screen: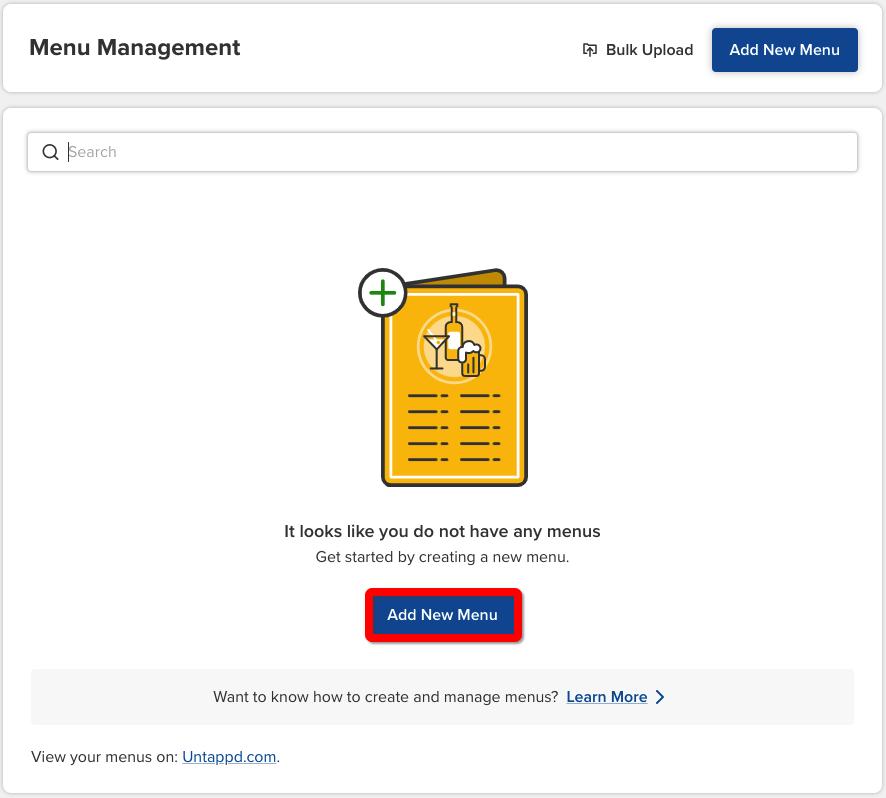 Give your menu a name, then choose whether you want the prices on this menu to appear in the Untappd app. After making your selection, click the "Create Menu" button: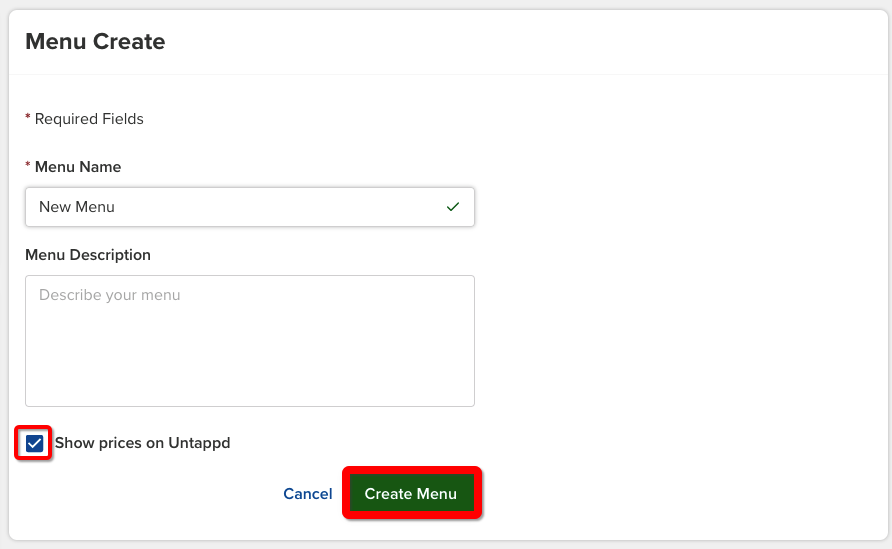 You'll now see your blank menu appear on screen. You can click on the Untitled Section to begin to add beverages to the menu. Once you are inside the Untitled Section, choose your beverage type and begin adding to the section: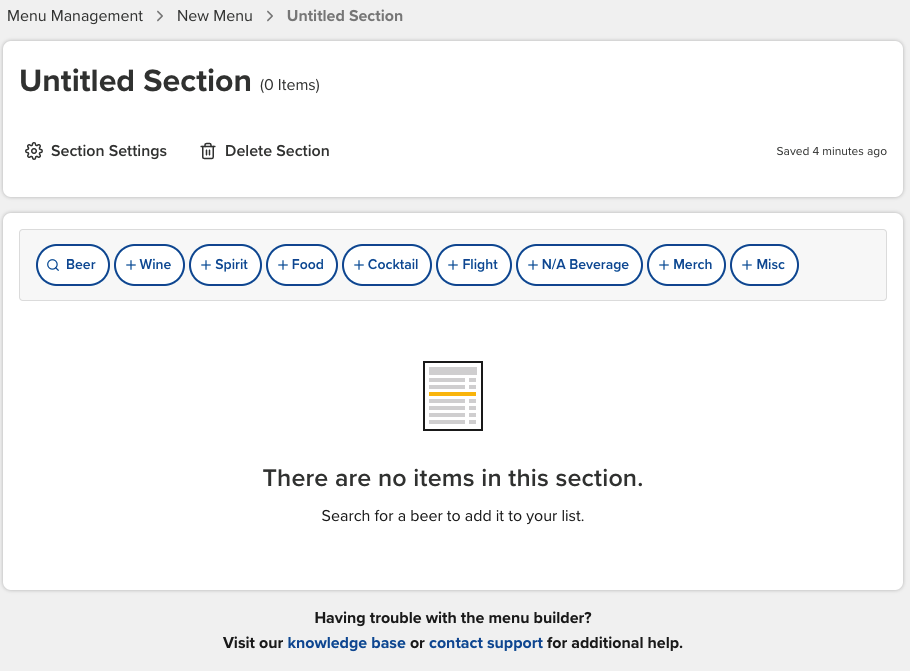 You can also add sections to the menu using the "Add a New Section" button in order to categorize your items more specifically: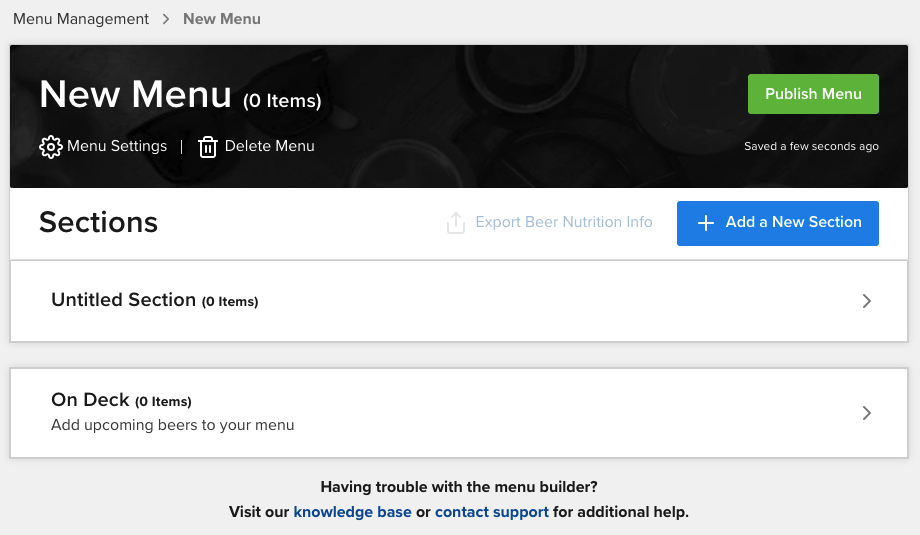 Working With Sections
Once you click the "Add a New Section" button, a box will pop up on the right to allow you to set the section up. Give the section a name, add a description if you'd like, and then click the "Create Section" button to add it to your menu: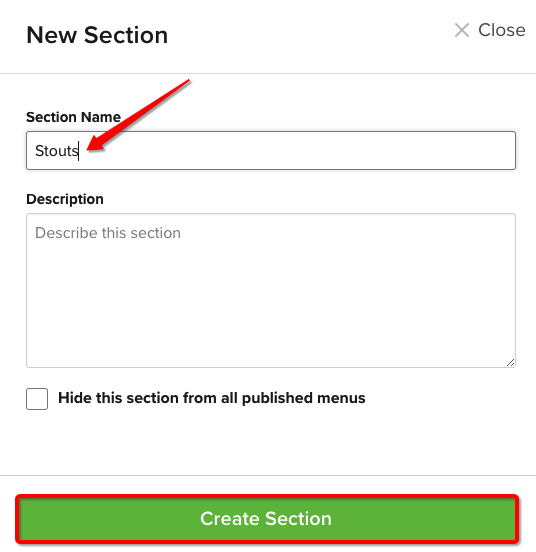 You can add as many sections as you'd like, and rearrange them using the slider icon on the right: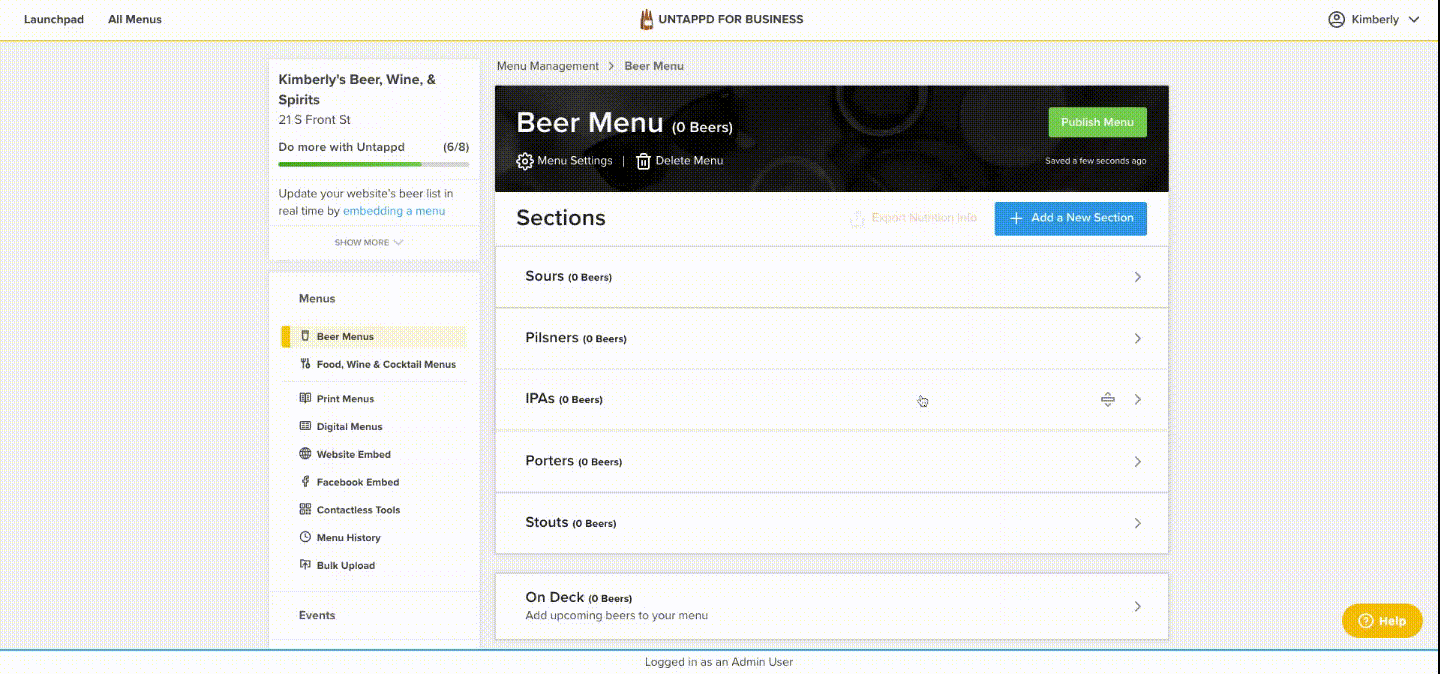 If you wish to simply have one section in the menu but want it to have a name, you can click the Untitled Section and rename it by clicking on the "Section Settings" button: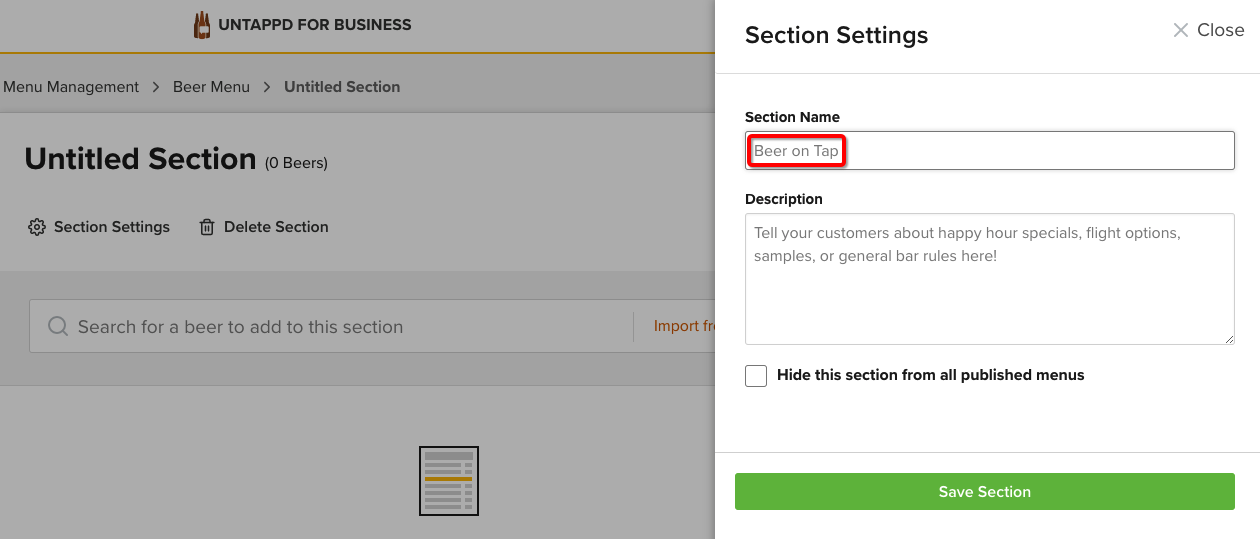 Working With Beers
To add beverages to a section, click on the section.
Once inside the section, click the beverage category you want to search. If searching beer, wine, or spirits, use the search box to enter the beverage name and manufacturer of what you're looking for. When you see it in the list, click on it to add it to your menu: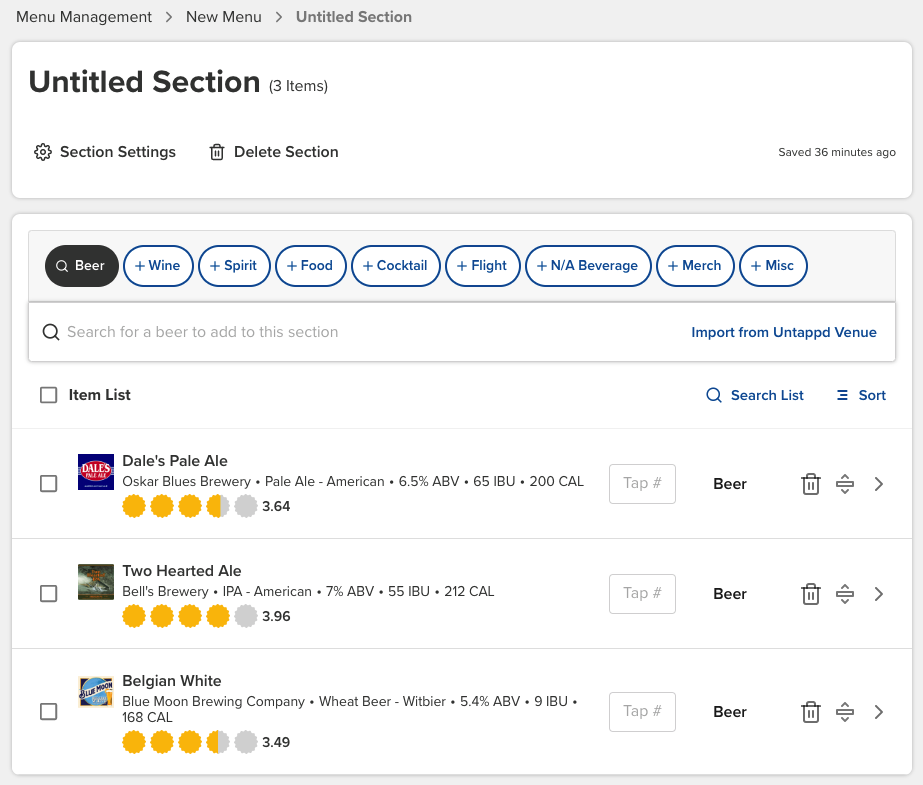 For all other items, clicking on the category will lead you to a form to fill out with all the necessary information. In the example below, a cocktail item is being set up:
**With Untappd for Business Premium, you have access to add an unlimited number of non-beer items. Without Premium, you have a limit of 20 items.**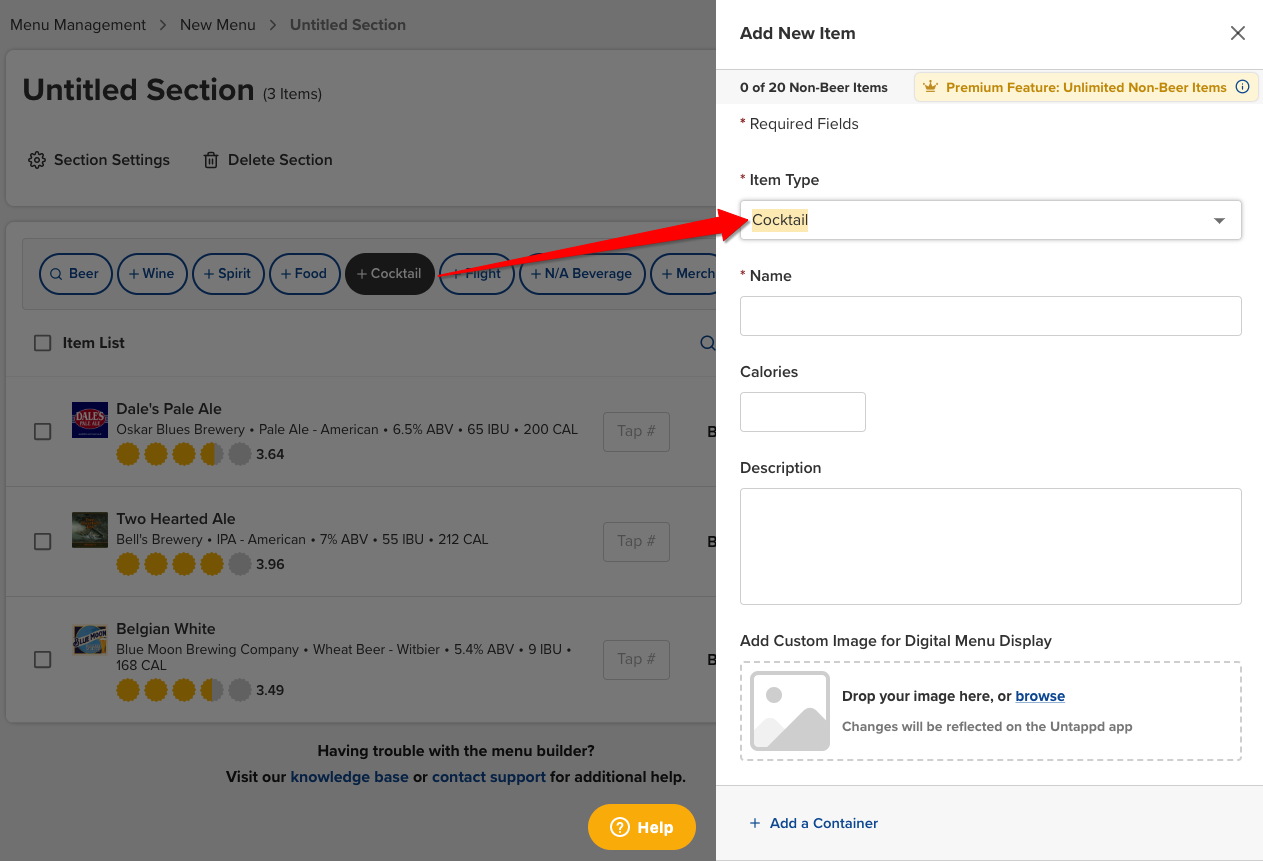 Repeat this process until all your items have been added to your menu. 
Adding Sizes and Prices
Once your menu is complete, you may want to add sizes and prices to your items. There are two ways to do this. 
You can add prices to items individually by clicking on the item and opening up the setup panel. You'll see the + Add a Container link at the bottom: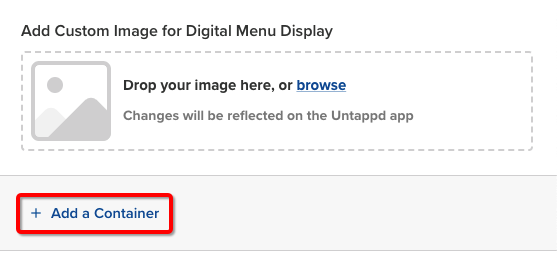 For beers, you'll have a set of preloaded sizes to choose from in the Containers field: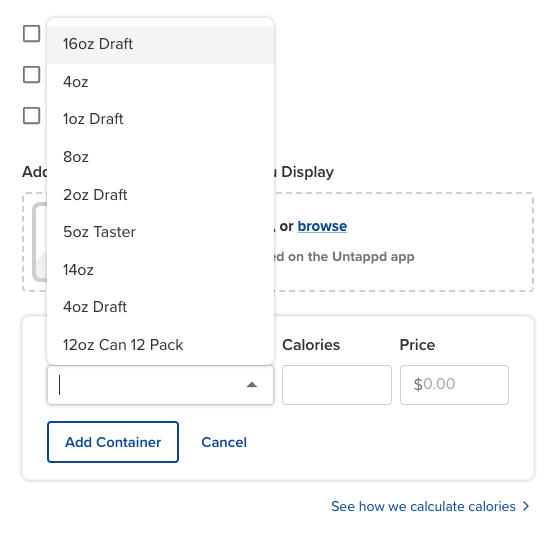 For all other item types, you will enter the size manually.
*Container name is a required field; however, if you do not need or want to add a container name, we recommend adding a period, dash or any other character you like in that box.
You can continue adding as many different sizes and prices to each item as you need by clicking the Add Container button. 
If you have some common sizes or prices, you can add them in bulk with the bulk menu tools. Select the beers you want to upload sizes and prices to, and then click the "Containers" button at the top. You can either add only a common container, or add a container along with a common price (if you don't add a price at this stage, the price will need to be manually added to each item later):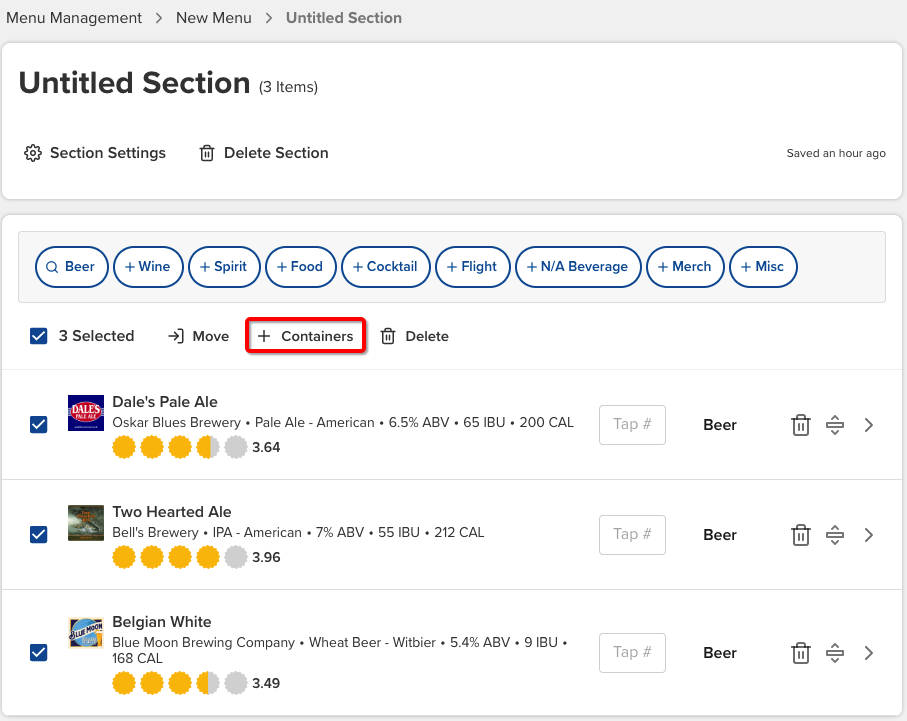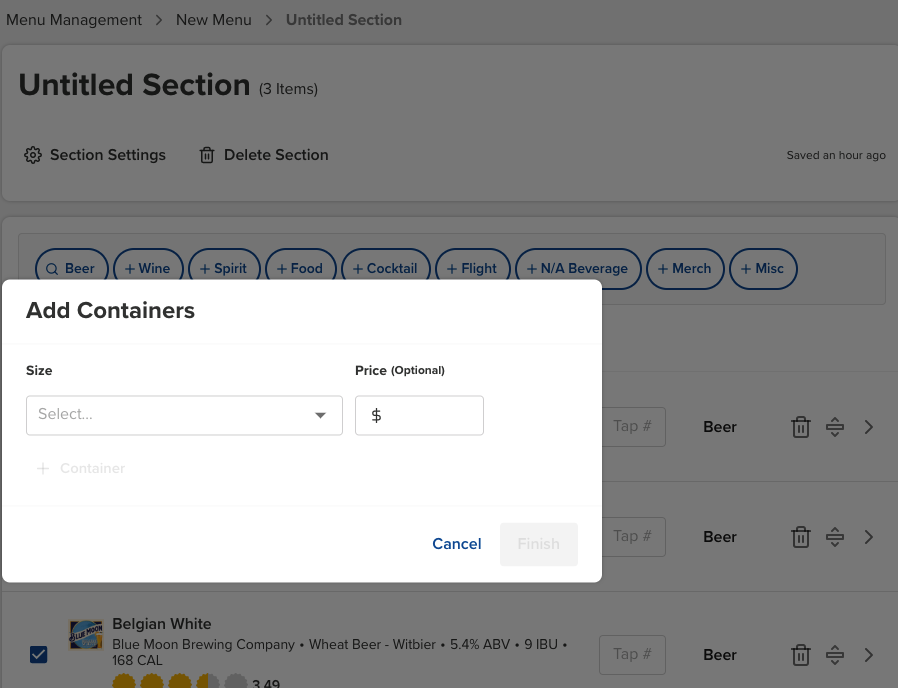 Going Live With the Menu
When you're ready for your menu to go live on the app, click the green "Publish" button in the upper right hand corner of your selected menu to push it live to the Untappd app: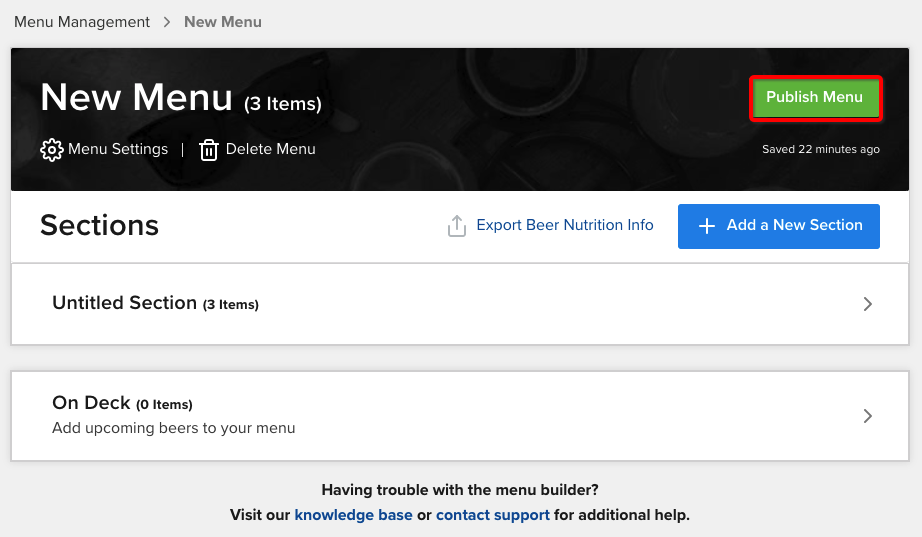 See also:
Different Ways To Build Your Beer Menu