If you did not receive a badge check the below FAQ for common reasons badges are not awarded. If you don't see the badge in question below please open a ticket and we'll look into it for you!
---
Any Country Based Badge
On Untappd, we have a hierarchy system when Beers belong to Breweries. You'll notice that the badge hint on the country badges says: "Drink 5 different beers from a brewery from country X". Sometimes the bottle itself will say "Made in X", but we are not indicating this for our country badges, but where the brewery's home location is located.
It's not where the beer is made, it's where we have the brewery that the beer is assigned to is located. An example is Evil Twin. Evil Twin is brewery located in New York City. Their beer bottles say "Made in Denmark", but their country of origin is the United States.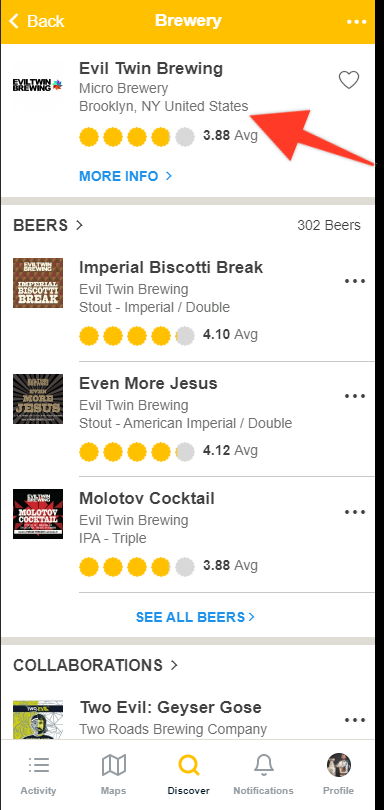 ---
New Brew Thursday
New Brew Thursday can only level up once every 30 days and can only gain progress towards a level once per 24 hour period. To see if you are eligible to level up, go to your badge page and select the New Brew Thursday badge. If you are within 30 days of date at the bottom, you are not eligible for the next level. Don't worry - your check-ins will still count, however, you won't be able to level up in within 30 days of you getting your previous level. Once you break 30 days, the badge will be eligible for the next level - but you'll need to have a new brew on a Thursday to unlock it.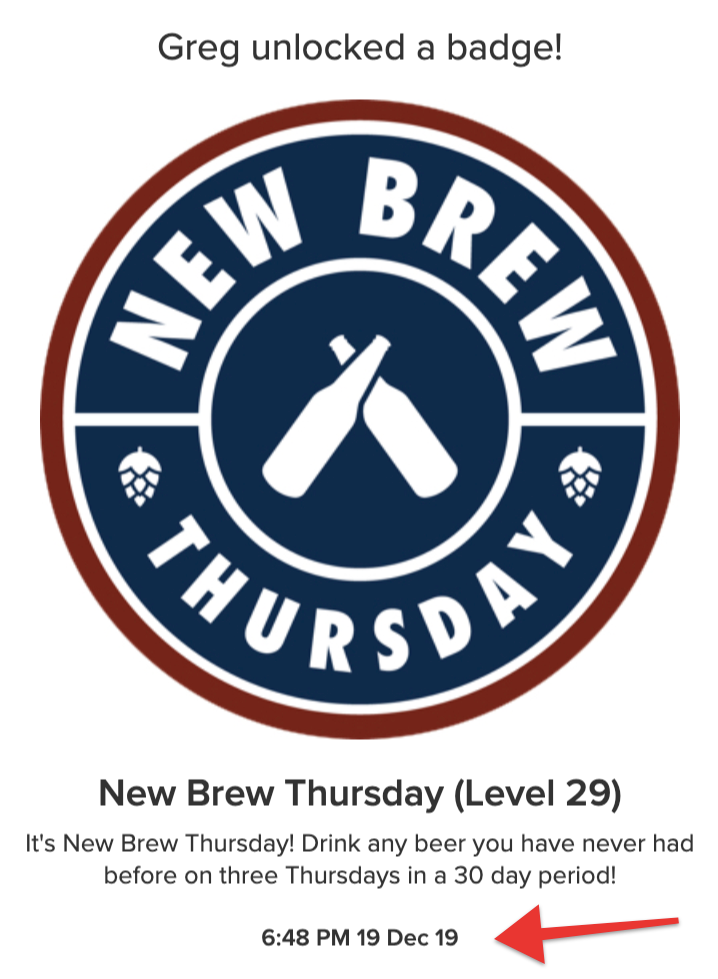 ---
Power Month or The Usual
All monthly badges (like Power Month and The Usual) calculate based off of a moving 30 day window. Therefore, you must be a member with Untappd for at least 30 days before the badge will award. Even if you Check-In 30 beers in your first 2 days, since your account is not 30 old the badge will not award. As long as you make a check-in after 30 days and the requirements are met in a 30 day window the badge will award.
---
Winter Wonderland
"Winter" needs to be in the style or in the title or it must be a winter related theme such as Snow, Blizzard etc.
---
Cheers to Independent US Craft Beers
The brewery must be listed as an Independent US Craft Brewery per the Brewers Association.
You can see a full list of qualifying breweries in our blog post here: https://untappd.com/sponsor/brewers_assocation or search on the Brewers Association's website here: https://www.brewersassociation.org/independent-craft-brewer-seal/
---
Brew Crawl
In order for progress to count towards the Brew Crawl badge you need to check-in to three different venues that are listed as a Bar.
---
Find The Source
In order for progress to count towards the Find The Source badge the venue needs to be categorized as a Brewery
---
Risk Taker
The Risk Taker badge is a tricky one!
The criteria are that you must meet one of these two things:
1. check-in a beer directly from the recommended carousel or recommended page
OR
2. add to your wish list (not a custom list) from the recommended carousel or recommended page, and then check-in at a later date
---
Smooth As Silk
The criteria for the Smooth as Silk badge is to "check-in with the serving style of Nitro." In order for a check-in to qualify for the badge, Nitro must be selected as the serving style.
---
Trappist Travesty
The criteria for the Trappist Travesty badge is to "check-in beers from Trappist Breweries." Keep in mind only breweries with the Authentic Trappist Product (ATP) count.
You can find a list of products that carry the "Authentic Trappist Product" label here: https://www.trappist.be/en/about-ita/atp-label/#
---
Liquid Lunch
For the Liquid Lunch Badge, you need to check-in to 5 different beers between 12pm - 2pm during the week (Monday - Friday) in the same calendar month. Keep in mind, daylight savings time can affect this badge. If you have checked into 5 different beers during the correct times, please open a ticket and let us know.