If you've signed up for a festival account on Untappd for Business, you've unlocked a powerful tool to help you promote your event! Using your festival account, you will be able to:
Control your festival's Venue page and publish menus to it.

Add all of your relevant information to it so your customers are well informed.

Generate subscribers and allow Untappd users to follow you and receive push notifications when you create events on Untappd and add beers to your menu.

Obtain data & analytics on what beers were checked in the most and rated the highest after your festival.

Receive a custom text promo that will run for 30 days in a 50 mile radius of the festival location - any time an Untappd user in that area/timeframe checks in a beer, your promo will pop up on their phone like a badge with custom text.

Write a custom email that comes from Untappd that goes out to all recipients of the promo with more information.

Use the announcements tool to cross-promote on social media.

Use the venue check-ins feature to interact with your customers post-festival.
You can fully customize your promotion with text and images. To take advantage of this, email your custom promo text, email text, and email header image to business@untappd.com at least 30 days before the projected launch date of your promo to get started.
Below are the specs for what we'll need from you:
The logo for your festival

in .png or .jpg format ONLY.

T

his will be the logo that users see when they receive your promo in-app.

200x200 pixels is the ideal size, but the logo

can be up to 500x500 pixels.

Custom text for the In-App Promo should be less than 250 characters.
Hyperlinks are not supported in In-App Promos.

There's no word/character limit on email text. Hyperlinks to your festival page, ticket sales page, etc. are encouraged!

Be sure to include all the info your customers will need to benefit from the promotion.

Email Header Dimensions should be: 572x200 pixels.
What Can't Festivals Do?

Use your page to advertise new events or reuse the page for other of your upcoming festivals (even within the same year).

Get a list of the email addresses for users who received the promotional email.
Example Email: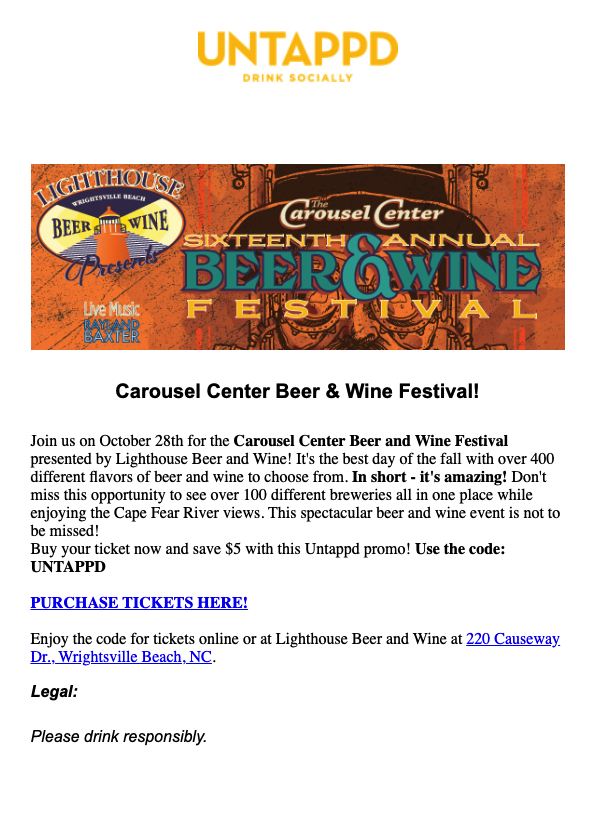 Example In-App Promo: