Now that you have created your badge and it's active for your customers to unlock/level up, it's time to promote it!
By having a local badge for your venue, you already enjoy some added exposure on the app, including:
Being featured on app's homepage in Nearby Local Badges section
Having a star on map pin, compared to just a dot
Placement on venue page saying "Check-in here to unlock a badge!"

If the user has already unlocked a badge, it will feature a progress bar, showing how close he/she is to next level!
There are various ways to do this, but here are some of the most effective methods:
Promotional Images for Digital Boards and Social Media
We recommend creating images featuring your local badge's logo that you can use on Facebook, Twitter and Instagram! Or even create some that can be optimized for your digital board! After everyone sees everything on the menu, you can have your local badge be the first ad slide they see up on the screen.
If you would like some assistance with local badge marketing materials, email us at business@untappd.com for our promotional image options.
Events
Do you have an upcoming event? Not only should you create the event within Untappd for Business, but also input some verbiage to alert attendees that they can unlock your exclusive badge by checking in at the event! Here's an example: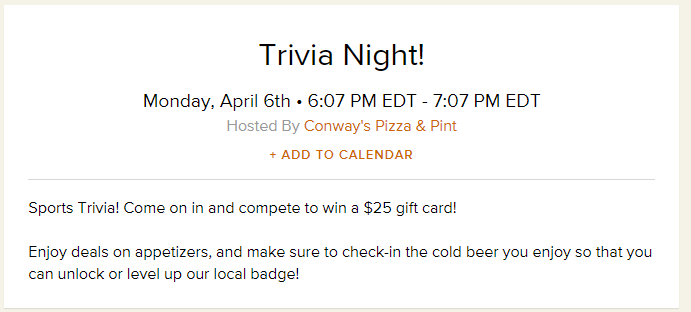 If you have any questions, please email us at business@untappd.com!