To set up a new digital board in your account, click "Digital Menu" in the bar on the left hand side of the screen. Then, click "Add a New Menu":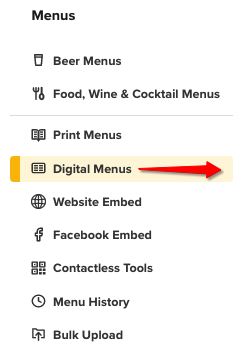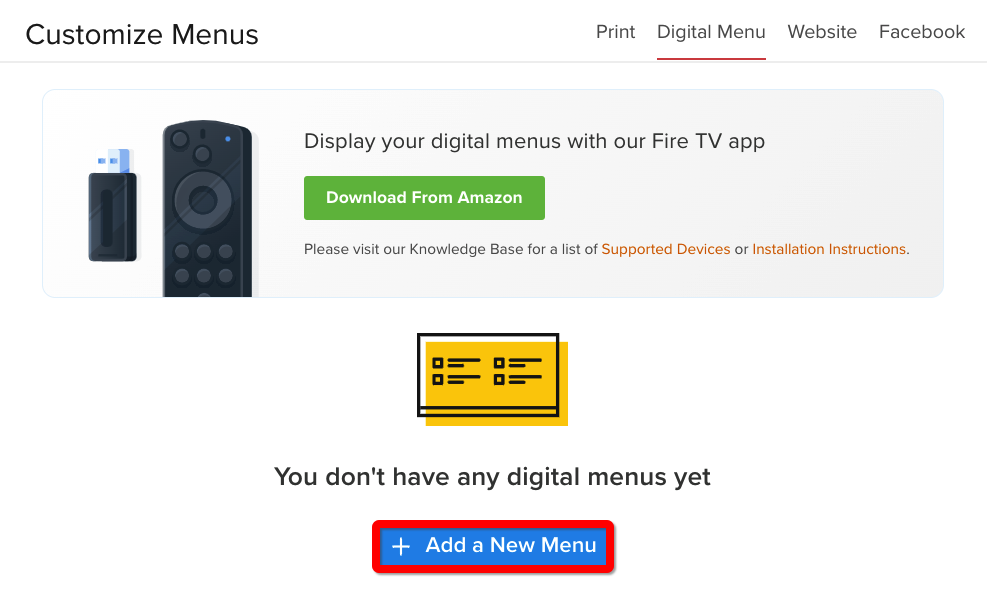 This will take you to the Settings page of the new menu. You'll be able to return here at any time by clicking the "Settings" button for your board once it's been set up: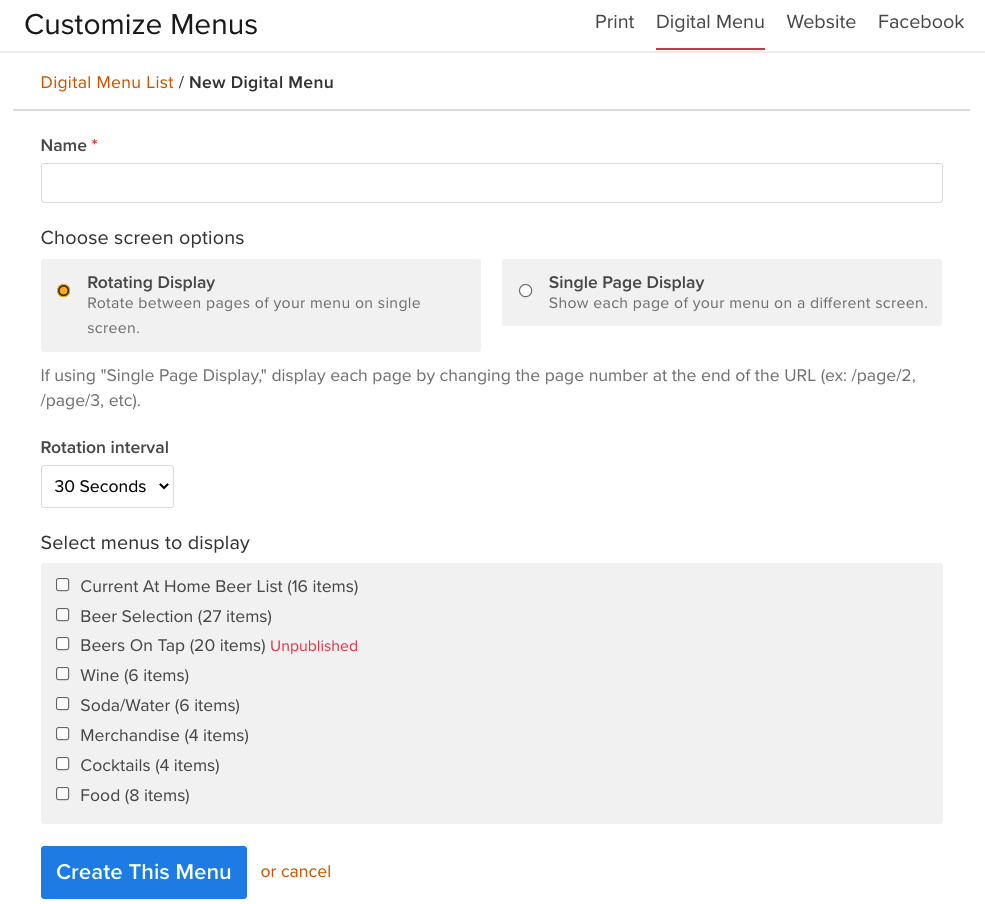 Name: Give your board a name so that in case you create multiple designs, you can easily tell them apart.
Screen options: You can choose between either Rotating Display or Single Page display.

Rotating Display

: scrolls through all the pages of your menu on a timed interval, on one screen

Single Page Display

: can be used if you have multiple screens and plan to show one page of the menu on each screen. Keep in mind that you will need as many digital board display devices as there are TVs/monitors.

Rotation Interval: If you are using Rotating Display, this number determines how long each page will display for on screen. The intervals are every 5, 10, 15, 30, and 45 seconds.
Menu List: displays all the beer and non-beer menus you have created in your account that are available to be added to a digital board. You may select as many menus as you want.
When you're done, click the "Create This Menu" button and you will be returned to the main digital menu page where you'll see a box containing your new board's info, such as board ID number, board URL, design controls, and setting controls.
Now click the "Design" button to enter the digital menu customizer: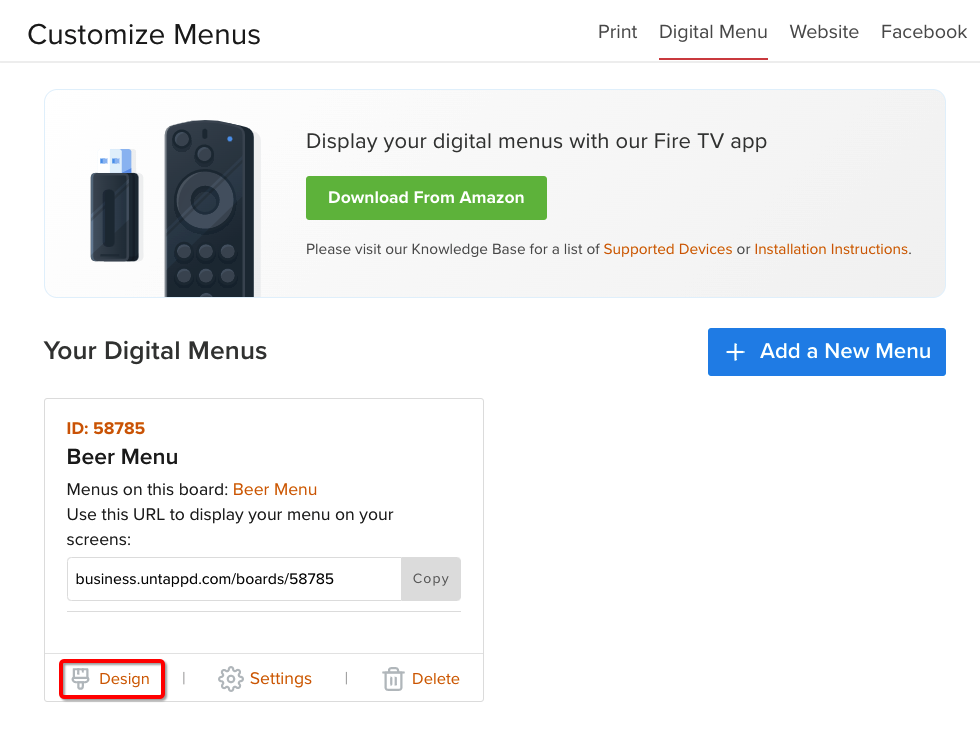 On the first tab of the customizer, Templates, you will be able to determine the number of beers you want to display per screen, and also choose your template from among a selection of landscape and portrait oriented designs for your board: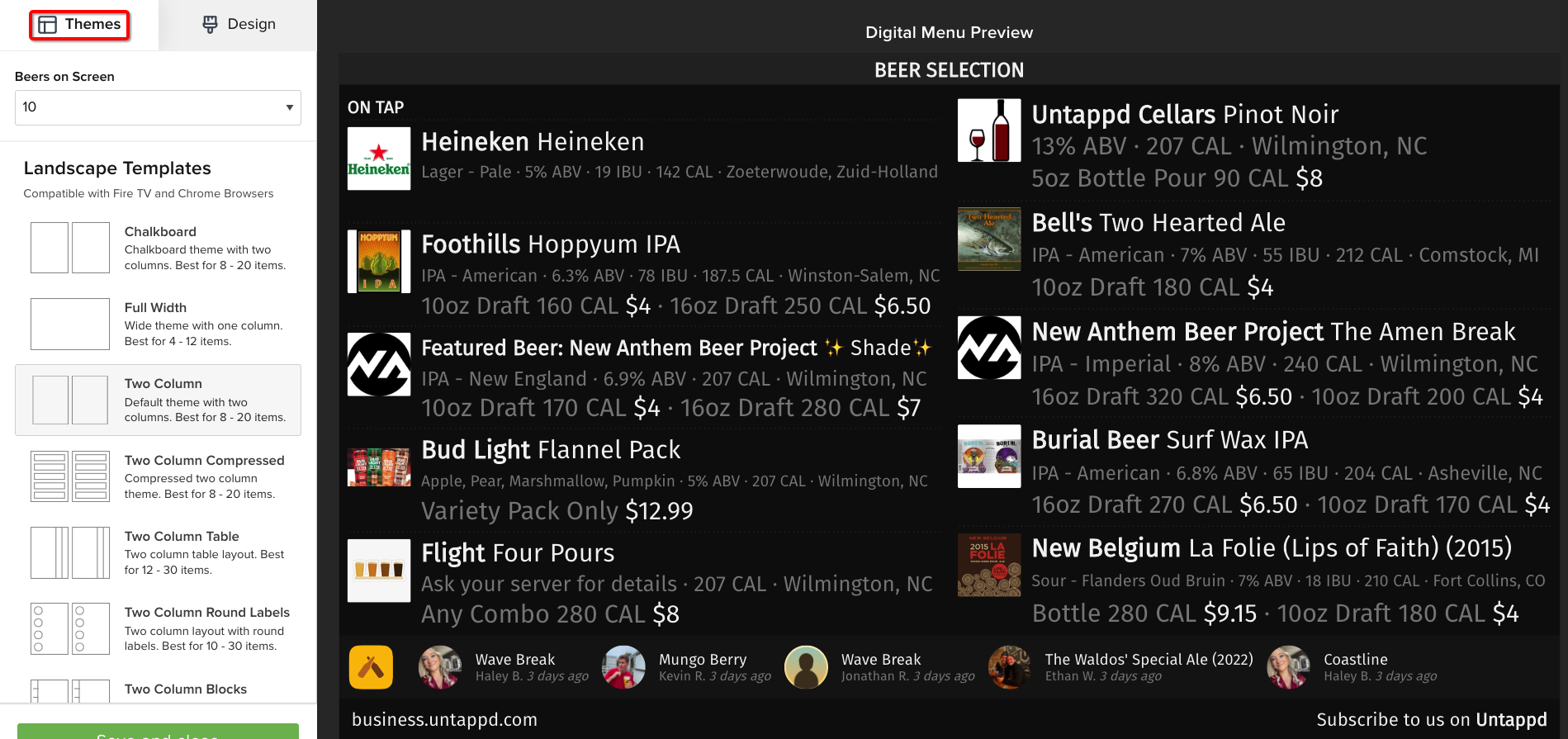 On the second tab, Design, you'll be able to choose specific attributes of your board, such as fonts, colors, beer info, etc.: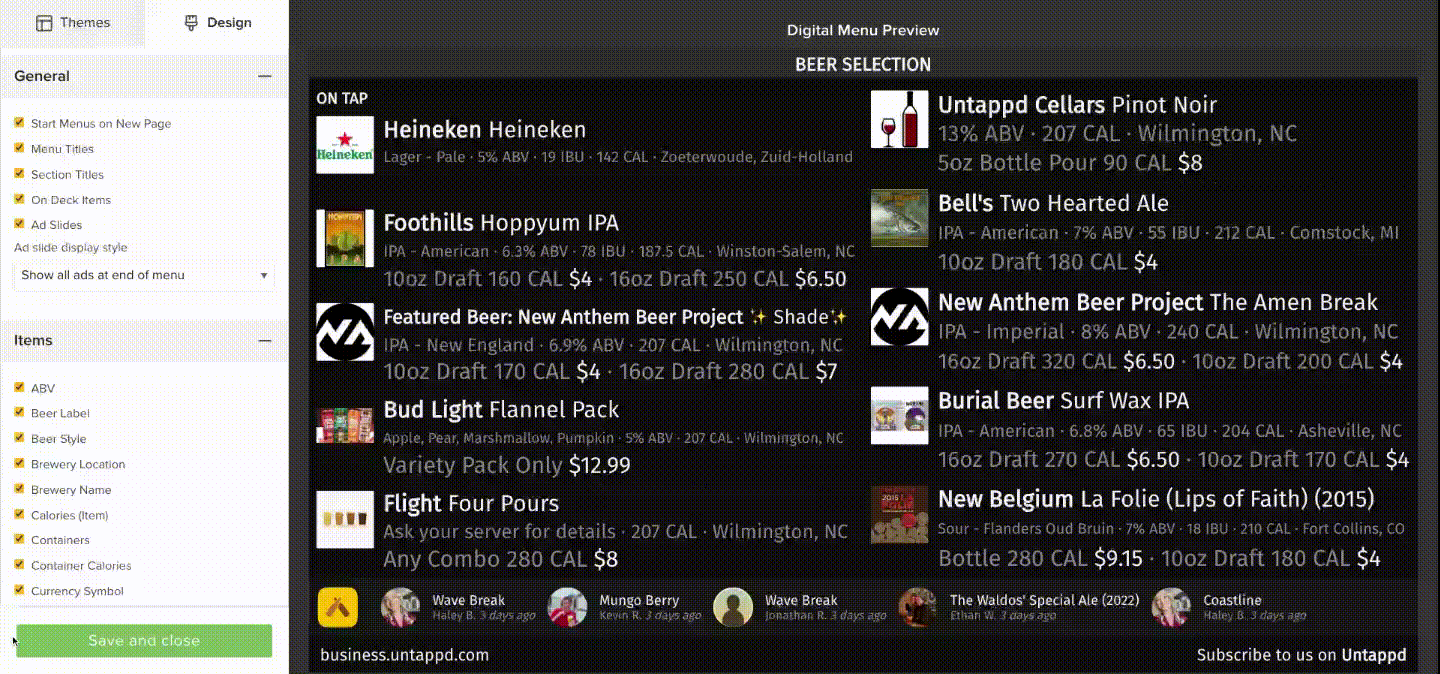 There are five sections for controls in the customizer.
General:

Start Menus on New Page - uncheck this box for a continuous scroll between multiple menus added to a board
Menu Titles - controls whether the name of your menu as seen in your menu builder is displayed at the top of the board.
Section Titles - controls whether the name of your menu's sections are displayed on the board
On Deck Items - controls whether items in your On Deck section are displayed on the board
Ad Slides - determines whether ad slides will display on the board
Ad slide display style - if you have activated ad slides, this allows you to decide whether the board will display all uploaded slides at the end of each menu display sequence, or, if the board will display the full menu, then slide A, full menu, then slide B, etc. ***slides can't be shown BETWEEN each page of the menu

Items (uncheck to remove from display):

Appearance:

Menu Background Image - upload a watermarked image to the background; 1920x1080px is the size for landscape, reverse for portrait
Theme & Background color - first choose the base theme either light or dark; then choose the exact background color of your board
Font Family - choose from a selection of preloaded fonts for your board
Colors - all other controls are for font colors, with several elements able to be controlled separately.

Info Bar (uncheck to remove from board):

Announcements
Events
Untappd Check Ins

Ad Slides (1920x1080 px, max file size 5MB)

no limit on slide numbers
ad slide duration (time on screen) can be set for each individual slide, 5, 10, 15, 30 or 45 seconds.
Once you have all of the above set up to your liking, click the "Save and Close" button. Keep in mind that changes autosave instantly and previous settings are irretrievable, so if you would like to try out multiple designs, it is best to set up multiple boards to experiment on.
When your board is done, copy down either the Digital Board ID or the URL to your board to enter it into your device.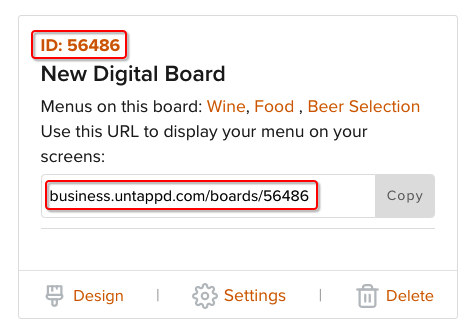 *If you are using the single page display option, you'll need to do a couple of additional steps
Fire Stick: Enter the appropriate board ID into each TV's stick. On the TV for pages 2+, you'll need to use the ring key on your remote to advance to page 2, 3, 4, etc.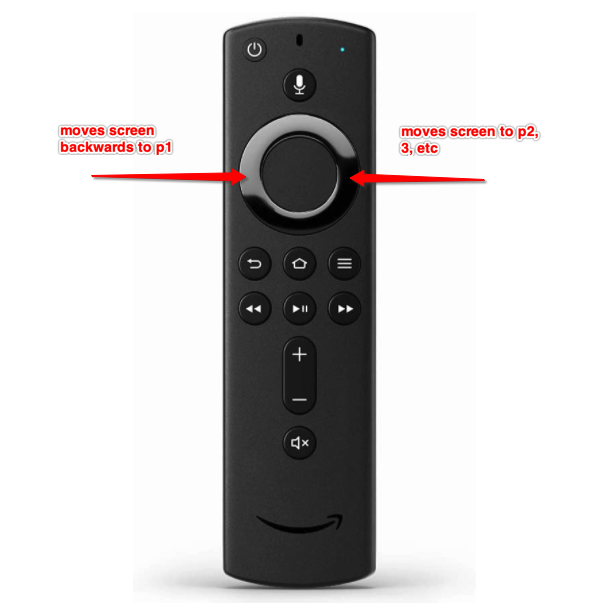 Chromebit: On each TV, you'll need to modify the URL for your board for each single page. For example -
business.untappd.com/boards/56486/page/1
business.untappd.com/boards/56486/page/2
business.untappd.com/boards/56486/page/3