Many retail establishments (such as wine stores, liquor stores, and grocery stores) use custom menus to display information to their customers through website and social media embedded menus.
Since custom menus will not appear on the Untappd consumer app, it's a good idea to keep in mind that custom menus won't be searchable or filterable like beer menus. As such, it's important to make sure your custom menus are as accessible and relevant to your customers as possible.
We'll go over some specific examples of the best uses of custom Untappd menus for retail establishments.
When creating custom menus for a retail store that carries a wide selection of products, it's important to think about the following things:
What items are customers the most interested in?

What information about the items is relevant to the customer?

How feasible is updating and maintaining this information on a practical basis?
What items are customers the most interested in?

Many liquor stores and wine shops have thousands of individual items for sale, however you might not want to include a list containing thousands of items because many customers aren't that interested in "common" products and aren't going to be inclined to browse a long menu with thousands of items just to find something specific they're looking for. As such, (while there is no limit to the number of items on a custom menu) we highly recommend keeping any single custom menu to less than 300 items.

Seasonal and rotational items are great items to include on a custom menu, especially for a liquor store. Your customers probably assume you have some of the same core brands available year round, but are more interested in knowing what special items are available now that they might not have seen last time. This can be especially useful during the holiday season when many liquor brands release special gift packs; a custom menu can be a great way to advertise last minute gift options.

New items are also a good option to include in a custom menu. Like seasonal items, customers are more likely to be interested in seeing things that they don't already know you have.

Many wine shops offer periodic tasting events. Custom menus are great for creating tasting notes for events or featured wines. We'll go into more detail on how to actually construct your custom menu a bit further below after figuring out what information to include on the menu.

What information about the items is relevant to my customers?
The biggest question here is whether you wish to include packaging/container sizes and prices. If your menu is going to be very large, you may wish to omit containers and prices since they can make large menus seem cluttered and less accessible to customers. You might also find that listing the containers or prices isn't relevant to your business type or customer base. For example, a wine shop might not want to add container sizes if all or most of their products are available in the same size bottle (or only adding a container size to the items that deviate from the standard). Another example would be a liquor store located in a highly competitive area where prices are pretty constant might not want to add prices (or, if your prices are much lower than your competitors, you may want to). It all depends on what you think is best for your business and customers. However, much of your decision on this matter should also depend on the last question.
How feasible is updating and maintaining this information on a practical basis?
One of the most important things to keep in mind when deciding how many items and how much information to include is how easily will you be able to maintain the accuracy of your custom menu. If you have a liquor store where your inventory is fairly consistent, but the prices fluctuate frequently, you might not want to include prices on your menu since editing the prices for each item can be too time consuming to be feasible. This can be a problem even without containers and prices if your menu contains a large number of items and your inventory rotates very quickly. It's important to find a balance that works for you, your business, and your customers!
Once you've decided how much to include in your custom menu, we're ready to get started creating it!
Creating your custom menu
To create a custom wine or liquor (or any other kind) menu, select the option to Add a New Food/Wine/Cocktail Menu from the sidebar, and give it a name!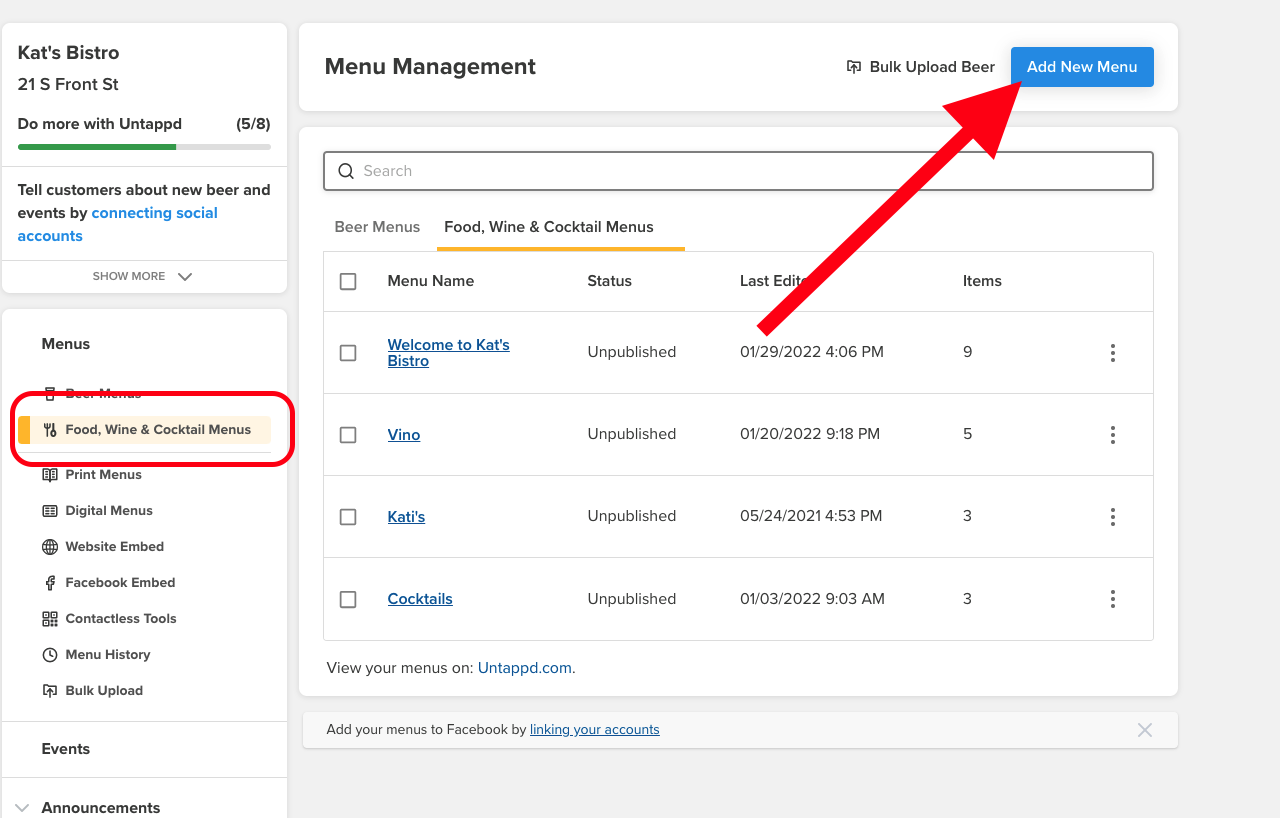 After creating your custom menu, the next step is to decide how (or if) to divide your menu. If you're only planning on listing a small number of items, you might just want to keep everything in the same section. If you have a larger number of items, you'll probably want to separate them into sections to make things more navigable to your customers. A common method is to separate your items by style, varietal, country or origin, etc., but these sections can be anything you want! If you have a smaller number of items you may wish to keep everything in one section for the sake of simplicity and visibility, but you can still add sections if you'd like your menu a bit more structured.
The menu will have one section already created by default. Let's start by naming this section and adding some items (we'll go over adding additional sections later). Name the first section of your menu whatever you'd like by typing in the box circled below.
Note: If your menu is only going to have one section there's no need to name the section unless you'd like it to have a smaller subtitle that's different from the Menu Name.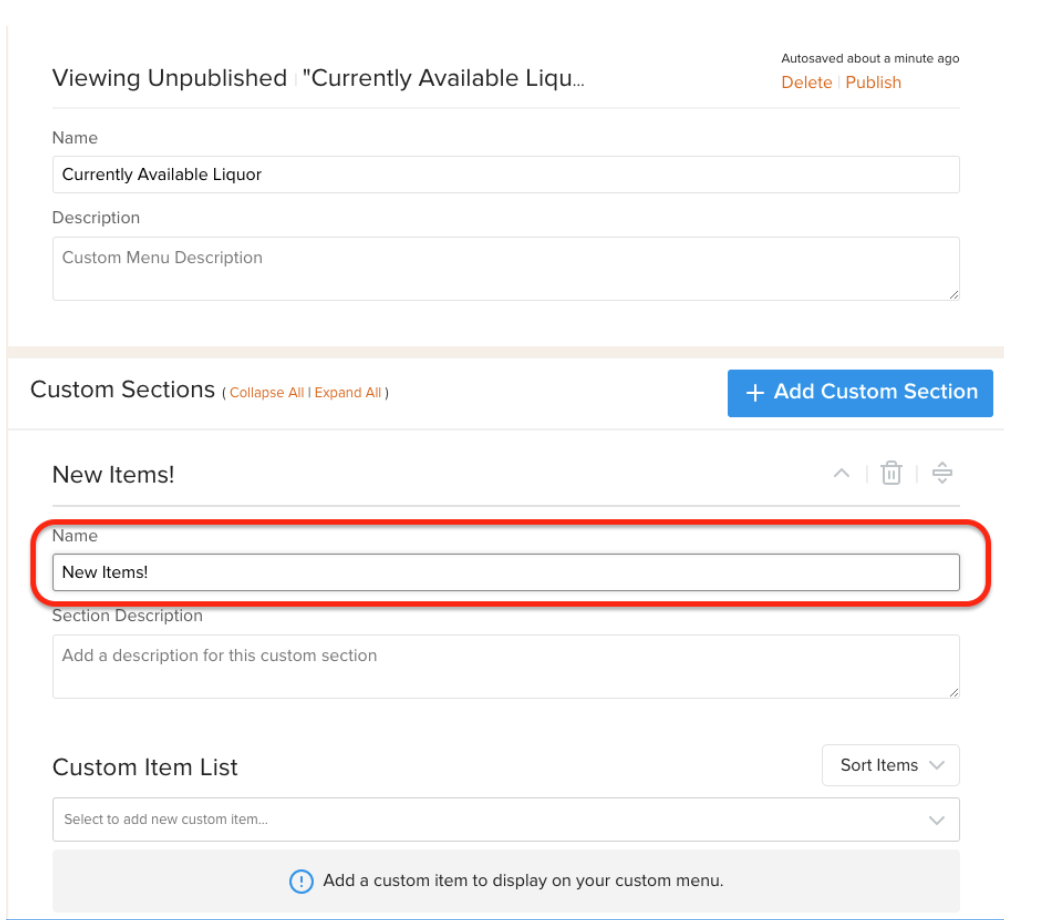 After naming your first section, you can add information pertaining to items in that specific section in the Section Description box. You can similarly add information pertaining to the entire menu in the Description box at the top of the screen.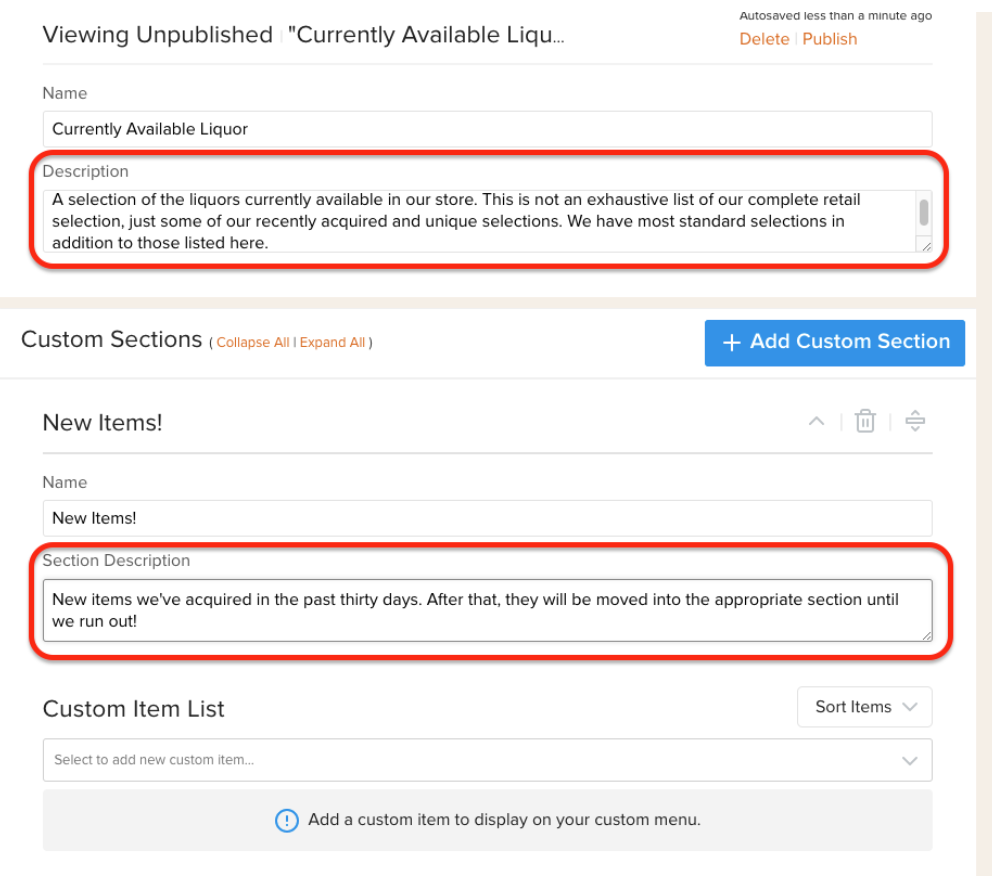 You can now add items to this section. Click the text box labeled "Select to add new custom item." Then select the item type you want to add (in this case, liquor, although these tips are just as relevant to other custom menu types).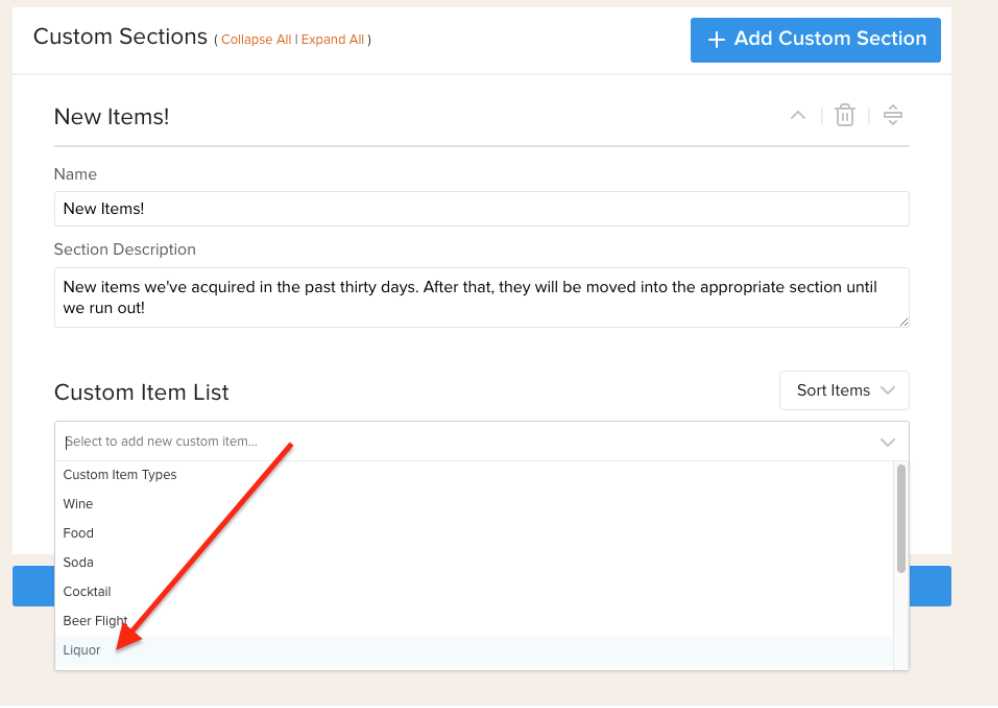 After you've added an item, you can give it a name and description. You can optionally add calorie information and an image to appear with the item here as well.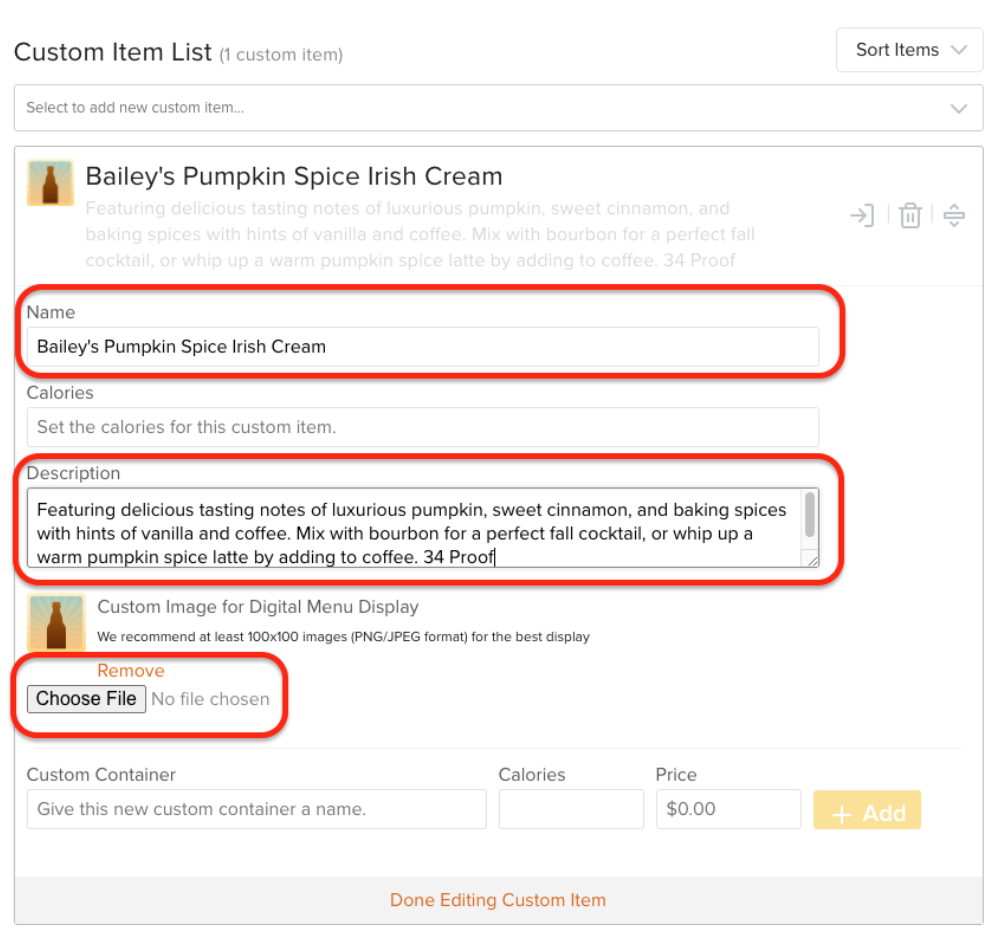 After naming and describing your item you can add a price to it by typing in the box circled below. You'll notice that as soon as you add a price a new blank row will appear above it. This allows you to add several different prices to a single item for different sizes or variations of the item (for a retail store, this is probably just going to be package or bottle size).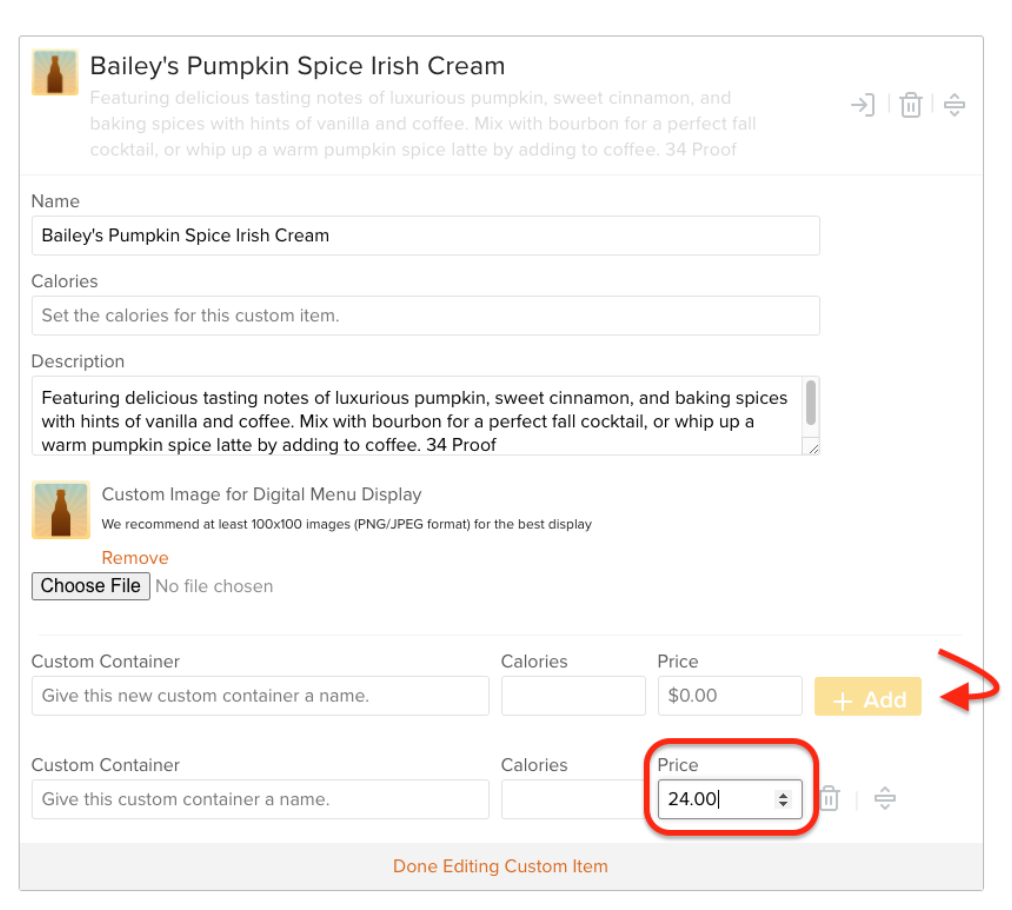 You can now add additional prices to an item as well as naming a "container" associated with the prices.
Note: For menus that have common serving sizes for items, you may not want to add container names for aesthetic purposes (i.e. many wine shops only sell 750ml size bottles, but you might choose not to label the prices as "Bottle Price" since it can be assumed by the customer). Also note that prices in general are completely optional; you can save a menu with items that have prices without containers, containers without prices, or without either.

Once you've added any prices and/or containers click the button at the bottom that says "Done Editing Custom Item." Now that you've created your first item, you can add as many items as you like in a similar fashion! If you need to rearrange items within a menu (or prices/containers within a single item) you can do so by selecting the arrow icon to the right of any item (circled below).
Note: Because new items automatically generate at the top of your menu, you can save time rearranging items by starting at the bottom of your menu and adding items from the bottom up.
Similarly, you can arrange your sections by selecting the same icon on the header of your Section: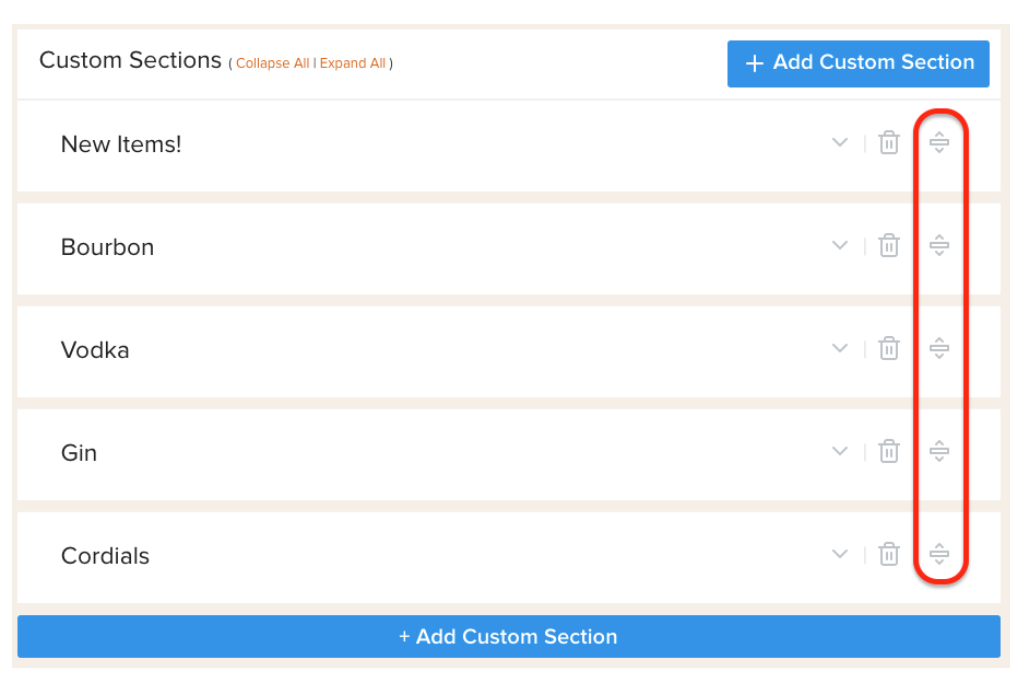 With this in mind, you should now be able to populate your custom retail menu!
These tips can be applied to the creation of any number of different styles of custom menus, however these have been geared towards a venue that only offers retail services. For specialized tips on creating a custom menu for a venue that that serves on-premise, please check out our articles on creating custom menus for Restaurants and Bars
If you have any other questions, don't hesitate to reach out to us at business@untappd.com!