If you're a brewery who has also become a verified venue, you'll notice that you now have two pages on Untappd. One is the listing for your brewery, and the other is the listing for your verified venue page.
Why Are They Separate?
A brewery may or may not be a place where customers can come and enjoy beers on site. Many breweries are production only, or for some other reason do not have an on-site taproom open to the public. These breweries therefore would not need a verified venue page as they only distribute beer to wholesalers or retailers who will then get it into their customers' hands.
Breweries that DO have a taproom onsite have the option to also become a verified venue on Untappd just as any other bar, restaurant, or bottle shop would. Verified venues provide retailers with tools to help them engage with their customers and build up their business's profile in the community around them.
Because every brewery isn't a venue, and every venue isn't a brewery, venues and breweries are hosted on two separate platforms. Breweries are hosted on untappd.com, where Untappd user accounts live and beers are checked in, and verified venue accounts live on business.untappd.com, which pulls in the beer information from the untappd.com database to power menus and other business tools. Therefore, as a brewery who is also a verified venue, you will always see two listings on Untappd. One will take users to your brewery (database) page, and one will take users to your verified venue page: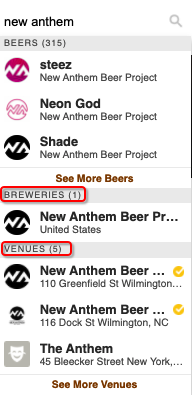 Notice that the brewery, New Anthem, is listed under both "Breweries" and under "Venues." Clicking the listing under "Breweries" will take a user to the New Anthem brewery database page, and clicking either of their listings under "Venues" will take the user to the specific menu pages for each of their taproom locations. The venue page is where you will interact with your customers at the Untappd user level and where you and they will find all of your menus and events.
How Does This All Work?
The information from brewery pages forms Untappd's beer database. Beers can be input either by breweries themselves or by users attempting to check in a beer and finding it doesn't yet exist in our system. This is how brewery pages get started; either the brewery, or more frequently, a user, adds a beer from a brewery that has never been on Untappd before, and in the process, the brewery page is automatically created as the place in our database where all beers created by that brewery going forward will be housed. The brewery page then becomes a page where users can view historical data for every beer that brewery has ever produced.
If the brewery registers, or "claims" their brewery, they will be able to log into it via the untappd.com website login screen, and control their beers' data. Breweries who claim their pages can upload their brewery and beer logos, add their social media information, edit, merge, and update beers, as well as see every check in for their beers no matter where they have been purchased or consumed. Brewery pages are free to claim and manage, and this should be done as soon as possible by the brewery to be able to keep information about its beers correct and up-to-date.
Unlike brewery pages, verified venue pages are able to create and display current beer menus, have subscribers who they can push updates to and who follow their page, add events to their venue calendar and the Untappd local events calendar, and access internal tools such as digital and print menu design, QR code creation, and free promotional materials such as table tents, coasters, and stickers that indicate to the public that you are a verified venue on Untappd. Verified venues also have the option of taking advantage of in-app promotions.
If you have more questions about managing your brewery page vs your venue page, see one of the articles listed below or reach out to Support at business@untappd.com!
How Can I Claim My Brewery on Untappd?
How Can I Add Managers to My Brewery Page?
Managing Your Beers on Untappd
FAQ: Why Won't My Beers Sync to Untappd When I Update Them Through My UTFB Menu?