As of January 9th, 2023, all Untappd for Business customers have the ability to upgrade to Untappd for Business PREMIUM from their existing essentials subscription.
All existing and new subscribers will receive a 30 day premium trial!
Untappd for Business Premium will include the following:
The ability to add wine and spirits using a search engine within your menu builder, thank you to our friends at Wine-Searcher! (you can still add wines and spirits manually)

You can also add beer items in the same menu as wine/spirits/cocktails/etc. They will be visible on the Untappd app (users still cannot check-in a non-beer beverage but they will now be able to see your FULL menu)

Unlimited non-beer items on your menu (with the essentials subscription, there is a limit of 20 non-beer items)
Unlimited users on your account (with the essentials subscription, limit is 5 active users)
API access
If you are navigating through an essentials subscription and your trial has ended, you can upgrade at any time in the top right corner:
You may also see the following personalized pop-up which will give you the ability to upgrade: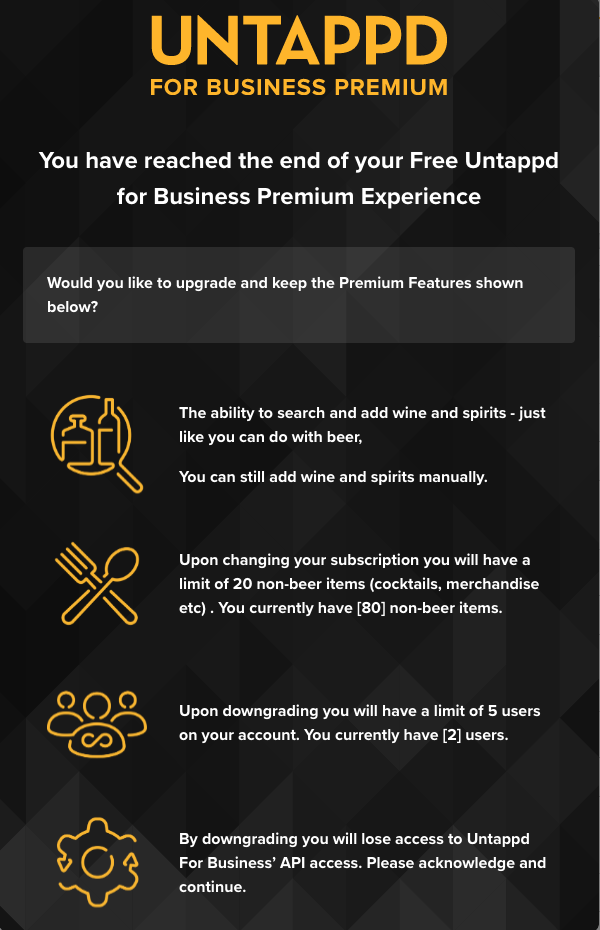 ➜ If you would like more information about Premium before upgrading, or if you would like to downgrade from Premium to an essentials subscriptions, please reach out to your Customer Success Manager at engage@untappd.com.
➜ If you have any technical questions about navigating through your account, please reach out to Untappd for Business Support at business@untappd.com.